July 9, 2020 | Inspiration, News | Raj Parr
RAAHI
Confession. I have never made Zinfandel, but I was recently inspired to try. Raahi means Traveller in Hindi. I chose to name my newest Glug Glug wine Raahi because to visit the vineyard and bring the fruit back to our winery in Lompoc, CA required me to travel the farthest of any vineyard I source from. Though long, it is a trip worth making, because it takes me to my friend Tegan Passalacqua's Kirschenmann Vineyard. Here the Mokelumne River drains out of the Sierra Nevada Mountains and into the Sacramento Delta and San Joaquin Valley depositing minerals from the mountains into the sandy flatlands of Lodi, California. Tegan (@ownrooted) diligently tends to some own-rooted and dry-farmed Zinfandel vines that were planted in 1915. The opportunity to make a wine from these vines marks the second pre-prohibition vineyard I've been fortunate to make into a Glug Glug wine!

More to come…Not a member of my mailing list yet? Sign up HERE to receive early access to every new release.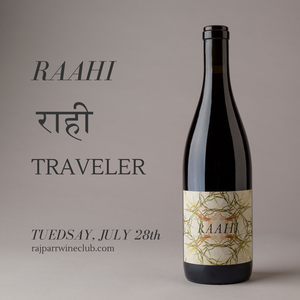 Comments
Bharat Sharma

@ Jul 10, 2020 at 9:05 AM

Love the Name

Commenting has been turned off.